Barney & Friends facts for kids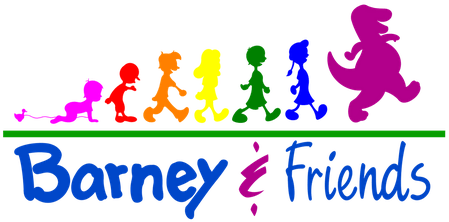 Barney & Friends is an American children's television series aimed at children aged 1 to 8, created by Sheryl Leach and produced by HIT Entertainment. It premiered on PBS on April 6, 1992.
The series features the title character Barney, a purple anthropomorphic Tyrannosaurus rex who conveys educational messages through songs and small dance routines with a friendly, optimistic attitude.
Production of new episodes ceased on September 18, 2009.
Reruns aired on Sprout from 2005 until 2015, and returned in December 17, 2018 under Sprout's new name Universal Kids.
Cast
Dinosaurs
Barney (played by David Voss in 1988-1990 and David Joyner in 1991-2002 and voiced by Bob West in 1988-2001 and Duncan Brennan in 1996-2002)
Kids
Adam (played by Alexander Jhin in 1988-1989 and 1990-1991)