Image: Copper-Gypsum-203925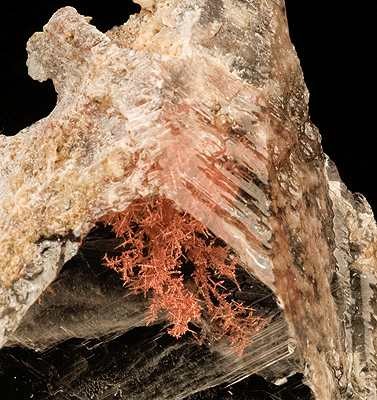 No higher resolution available.
Description: Copper, Gypsum (Var.: Gypsum)

Locality: Mission Mine (Mission underground mine), Mission complex, San Xavier, Pima District (Olive District; Mineral Hill District; Twin Buttes District), Sierrita Mts, Pima County, Arizona, USA (Locality at mindat.org)
Size: 12.6 x 8.2 x 0.9 cm.
This is a large slice through a large specimen of selenite that has inclusions of copper inside it. You can clearly see, inside the very transparent selenite, penny-bright crystals of acicular copper in dendritic clusters. Ex. Consie Prince Collection.


Author: Rob Lavinsky / iRocks.com
Usage Terms: Creative Commons Attribution-Share Alike 3.0
License: CC-BY-SA-3.0
License Link: http://creativecommons.org/licenses/by-sa/3.0/
Attribution Required?: Yes
Image usage
The following page links to this image: