Edelweiss Sausage & Delicatessen facts for kids
Edelweiss Sausage & Delicatessen, or simply Edelweiss, is a delicatessen in southeast Portland, Oregon's Brooklyn neighborhood, in the United States.
Description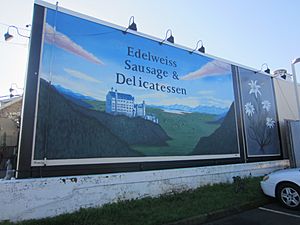 In 2018, the Portland Mercury described Edelweiss as a "wünder-land of weird and delicious-looking things, from candies with unpronounceable names to mayonnaise that comes out of a toothpaste tube" with a "wraparound deli with all kinds of meats stacked high".
History
Guy Fieri visited Edelweiss for an episode of the Food Network's Diners, Drive-Ins and Dives.