iBook facts for kids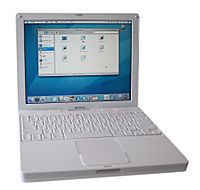 The iBook was a line of laptop computers sold by Apple Inc. between 1999 and 2006. Apple designed these computer for the consumer and education markets, so they had lower specifications and prices than the PowerBook, Apple's higher-end line of laptop computers.
Apple replaced the iBook line with the MacBook in May 2006 while Apple changed to using Intel processors.
Images for kids