USS Nimitz (CVN-68) facts for kids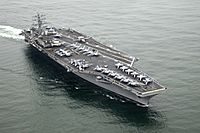 The USS Nimitz (CVN-68) is a supercarrier for the United States Navy. Starting in late 2011, The USS Nimitz will be stationed at Naval Station Everett in Everett, Washington. It is named after Admiral Chester W. Nimitz.
It is set to replace the USS Abraham Lincoln.its length got to an amazing 1063 ft or 333 meters. It has four steam catapults that can speed up a 100,000 pound plane to 160 mph in 100 meters. It can launch early warning planes f/a-18 hornets and super hornet fighter bomber aircraft. it is powered by two nuclear reactors and can stay at sea for 24 years without refueling although once it needs to refill, it needs to be done carefully and only done in speacial naval bases.its weight also gets to an holy 100000 tons.it can carry 80 to 90 aircraft at the most.
Images for kids
Lt. Cmdr. David Bynum, a Navy chaplain aboard Nimitz, passes out happy face sponge balls to the students of CSI High School for the Deaf in Chennai India during a community relations visit in July 2007.

A C-2 Greyhound of VRC-30 and an F-35C Lightning II of VX-23 ready for launching from Nimitz in November 2014; a second F-35C and an F/A-18F Super Hornet sit behind the catapults.