Wallace & Gromit: The Curse of the Were-Rabbit facts for kids
Wallace & Gromit: The Curse of the Were-Rabbit

British theatrical release poster

Directed by
Nick Park
Steve Box
Produced by
Claire Jennings
Carla Shelley
Peter Lord
David Sproxton
Nick Park
Screenplay by
Steve Box
Nick Park
Mark Burton
Bob Baker
Starring
Peter Sallis
Ralph Fiennes
Helena Bonham Carter
Music by
Julian Nott
Cinematography
David Alex Riddett
Tristan Oliver
Editing by
David McCormick
Gregory Perler
Studio
DreamWorks Animation
Aardman Animations
Distributed by
DreamWorks Pictures (United States)
United International Pictures (United Kingdom)
Release

date(s)

4 September 2005(Sydney)
7 October 2005

(United States)


14 October 2005

(United Kingdom)

Running time
85 minutes
Country

United Kingdom
United States

Language
English
Budget
$30 million
Money made
$192.6 million
Wallace & Gromit: The Curse of the Were-Rabbit is a 2005 stop motion clay-animated supernatural comedy film produced by British studio Aardman Animations in partnership with American studio DreamWorks Animation. United International Pictures distributed the film in the United Kingdom, and it was the last DreamWorks Animation film to be distributed by DreamWorks Pictures in the United States. It was directed by Nick Park and Steve Box (in Box's feature directorial debut) as the second feature-length film by Aardman, after Chicken Run (2000). The film premiered in Sydney, Australia on 4 September 2005, before being released in cinemas in the United States on 7 October 2005 and in the United Kingdom a week later on 14 October 2005.
The Curse of the Were-Rabbit is a parody of classic monster movies and Hammer Horror flicks and also serves as part of the Wallace and Gromit series, created by Park. The film follows good-natured yet eccentric cheese-loving inventor Wallace and Gromit, his intelligent mute dog in their latest venture as pest control agents, as they come to the rescue of a village plagued by rabbits before an annual vegetable competition.
The film features an expanded cast of characters relative to the previous Wallace and Gromit shorts, with a voice cast including Helena Bonham Carter and Ralph Fiennes. It was a critical and commercial success, and won a number of film awards including the Academy Award for Best Animated Feature, making it the second film from DreamWorks Animation to win (after Shrek), as well as both the second non-American animated film and second non computer-animated film to have received this achievement (after Spirited Away).
Plot
Tottington Hall's annual giant vegetable competition is approaching with the coveted Golden Carrot as its prize. Wallace and Gromit provide a humane pest control business, "Anti-Pesto", protecting the townspeople's vegetables. One evening after capturing rabbits found in Lady Tottington's garden, Wallace devises a plan to turn them against vegetables by using his latest invention, the "Mind Manipulation-O-Matic", to brainwash them. All goes well until Wallace accidentally kicks the machine's switch into "BLOW," and one rabbit gets stuck to Wallace's head, causing their minds to fuse before Gromit cuts the power. However, the transfer appears to have worked, as the rabbit shows no interest in vegetables. They name the rabbit Hutch and place him in a cage.
That night, a giant rabbit devours many of the town's vegetables. At a town meeting, the hunter Lord Victor Quartermaine offers to shoot the were-rabbit, but Lady Tottington persuades the townsfolk to continue with Anti-Pesto's services. After a failed attempt, Wallace suspects that Hutch may be the were-rabbit and has Gromit lock him in a high-security cage. Gromit learns soon after the Were-Rabbit is in fact Wallace. Victor, who seeks to woo Lady Tottington, corners Wallace in the forest, but Wallace transforms into the Were-Rabbit under the light of the full moon and flees. Gromit lures Wallace home to protect him. Victor obtains three "24-carrot" gold bullets from the Vicar to use against Wallace.
On the day of the vegetable competition, Gromit convinces Wallace that he is indeed the Were-Rabbit, and that he must fix the Mind-o-Matic to undo the curse. Lady Tottington, who has come to like Wallace, visits and tells him about Victor's plan. As the moon rises, Wallace begins to transform, and hastily forces Lady Tottington to leave. Victor arrives and attempts to shoot Wallace as the Were-Rabbit with the golden bullets. Gromit creates a distraction using a rabbit costume to allow Wallace to escape, and Victor gives chase to the competition. Gromit begins working with Hutch, who has developed Wallace-like traits including his appetite for cheese, and plans to use his giant marrow as bait to lure Wallace to safety.
Wallace, as the were-rabbit, creates chaos at the fair. Using up all his gold bullets, Victor takes the Golden Carrot trophy to use as ammunition. Wallace carries Lady Tottington atop Tottington Hall, where she discovers Wallace's connection to the were-rabbit. Victor gives chase, revealing that he only wants to impress Lady Tottington for her money. Victor's dog Philip engages Gromit in a dogfight in aeroplanes taken from a fairground attraction. Gromit sends Philip's plane to the ground, then steers his plane into Victor's line of fire as Victor fires at Wallace, causing the bullet to hit the plane instead. The damaged plane falls and Wallace jumps to grab Gromit, sacrificing himself to cushion their fall into a cheese tent.
Victor gloats about his victory, but Lady Tottington hits him with her giant carrot and he falls into the tent. To protect Wallace from the angry townspeople, Gromit quickly disguises Victor as the were-rabbit in the rabbit costume and the townspeople chase him away. Wallace transforms back to his human self and appears dead, but Gromit uses some Stinking Bishop cheese to revive him. Lady Tottington awards Gromit the Golden Carrot and converts the grounds of Tottington Hall into a habitat for Hutch and the other rabbits.
Voice cast
See also: Wallace and Gromit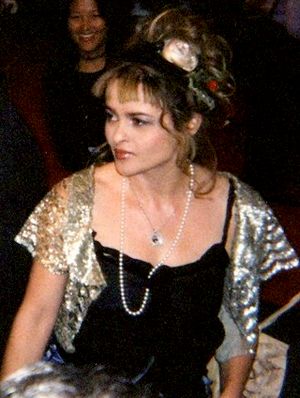 Peter Sallis as Wallace, a good-natured yet eccentric, absent-minded and accident-prone inventor with a great fondness for cheese, who runs Anti-Pesto with his dog and best friend, Gromit.

Sallis also provides the voice of Hutch, a captive rabbit who gradually develops several of Wallace's mannerisms — his dialogue consists entirely of phrases and statements previously made by Wallace — after an attempted mind-alteration goes awry and who is at first suspected to be the Were-Rabbit. Sallis' voice was digitally accelerated to create that of Hutch's.

Gromit is Wallace's silent, brave and highly intelligent dog who cares deeply for his master, and saves him whenever something goes wrong.
Ralph Fiennes as Lord Victor Quartermaine, a cruel upper class bounder and a prideful hunter who is courting Lady Tottington. He wears a toupee and despises Wallace and Gromit.

Philip is Victor's vicious but cowardly and dimwitted hunting dog who resembles a Bull Terrier. He is too cowardly to face the Were-Rabbit so he instead targets Gromit.

Helena Bonham Carter as Lady Campanula Tottington, a wealthy aristocratic spinster with a keen interest in vegetable horticulture and 'fluffy' animals. For 517 years, the Tottington family has hosted an annual vegetable competition on their estate on the same night. Lady Tottington asks Wallace to call her "Totty" (which is a British term for attractive women) and develops a romantic interest in him. Her forename, Campanula, is the scientific name of a bellflower, and her surname is taken from the Lancashire village of Tottington.
Peter Kay as Police Constable Albert Mackintosh, the local village policeman who judges the Giant Vegetable Contest, though he would prefer it if the "trouble-making" competition didn't happen.
Nicholas Smith as Reverend Clement Hedges, the foolish local vicar and the first resident to witness the Were-Rabbit.
Dicken Ashworth and Liz Smith as Mr. and Mrs. Mulch, vegetable contestants and clients of Wallace and Gromit's Anti-Pesto.
Edward Kelsey as Mr. Growbag, an elderly resident of Wallace and Gromit's neighbourhood and a founding member of the town's veg grower's council.
Geraldine McEwan as Miss Thripp, an Anti-Pesto customer. McEwan reprised her role in A Matter of Loaf and Death.
Soundtrack
All music composed by Julian Nott and produced by Hans Zimmer.
No.
Title
Artist
Length
1.
"A Grand Day Out"  
 
1:54
2.
"Anti-Pesto to the Rescue"  
 
3:18
3.
"Bless You, Anti-Pesto"  
 
1:56
4.
"Lady Tottington and Victor"  
 
2:03
5.
"Fire Up the Bun-Vac"  
 
1:47
6.
"Your Ladyship"  
 
1:07
7.
"Brainwash and Go"  
 
2:28
8.
"Harvest Offering"  
 
2:30
9.
"Arson Around"  
 
2:23
10.
"A Big Trap"  
 
3:27
11.
"The Morning After"  
 
1:44
12.
"Transformation"  
 
4:05
13.
"Ravaged in the Night"  
 
1:45
14.
"Fluffy Lover Boy"  
 
4:36
15.
"Kiss My Artichoke"  
 
4:31
16.
"Dogfight"  
 
3:39
17.
"Every Dog Has His Day"  
 
2:43
18.
"All Things Fluffy"  
 
1:07
19.
"Wallace and Gromit"  
 
1:08

Total length:

48:11
Split of DreamWorks and Aardman
After the box-office failure of Flushed Away resulted in a major write down for DreamWorks, it was reported on 3 October 2006 and confirmed on 30 January 2007 that DreamWorks had terminated their partnership with Aardman. In revealing the losses related to Flushed Away, DreamWorks also revealed they had taken a $29 million write down over Wallace & Gromit as well, and the film under performed expectations despite grossing $192 million against a budget of only $30 million.
Following the split, Aardman retained complete ownership of the film, while DreamWorks Animation retained worldwide distribution rights in perpetuity, excluding some United Kingdom television rights and ancillary markets. Soon after the end of the agreement, Aardman announced that they would proceed with another Wallace & Gromit project, later revealed to be a return to their earlier short films with A Matter of Loaf and Death for BBC One.
During production of the short, Park remarked publicly on difficulties with working with DreamWorks during the production of Were-Rabbit, such as the constant production notes and demands to alter the material to appeal more to American children.