Art & Language facts for kids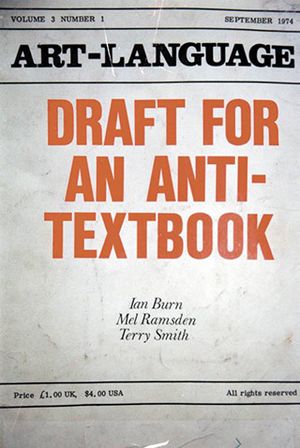 Art & Language is a conceptual artists' collaboration founded around 1967 in the United Kingdom by Terry Atkinson (b. 1939), David Bainbridge (b. 1941), Michael Baldwin (b. 1945) and Harold Hurrell (b. 1940). The name of the group was derived from their journal, Art-Language The Journal of conceptual art. In their text-works, they created conceptual art as part of their discussions.
Art & Language is at the origin of conceptual art and their work was an important influence on its development.
Past members and associates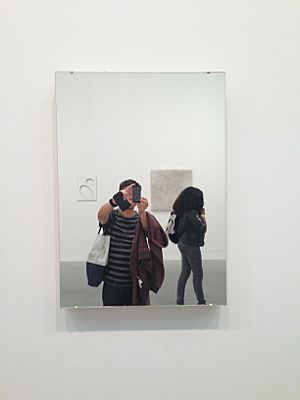 Terry Atkinson
David Bainbridge
Kathryn Bigelow
Ian Burn
Sarah Charlesworth
Michael Corris
Preston Heller
Graham Howard
Harold Hurrell
Joseph Kosuth
Christine Kozlov
Nigel Lendon
Andrew Menard
Philip Pilkington
Neil Powell
David Rushton
Terry Smith
Mayo Thompson
Awards
Terry Atkinson was Nominated in 1985 for the Turner Prize.
Art & Language was nominated in 1986 for the Turner Prize.
Permanent collections
Papers and works relating to New York Art & Language are held at the Getty Research Institute, Los Angeles.
In March 2011, Philippe Méaille loaned 800 artworks of Art & Language to the Barcelona Museum of Contemporary Art (MACBA). In June 2015, the Conseil départemental de Maine-et-Loire and Philippe Méaille signed a long term lease agreement for the Chateau de Montsoreau to promote contemporary art in the Loire Valley.
See also

In Spanish: Art & Language para niños