Church of St Andrew & St Mary, Pitminster facts for kids
Church of St Andrew & St Mary
General information
Town or city
Pitminster
Country
England
Coordinates

50°57′58″N

3°06′40″W

 / 

50.9661°N 3.1110°W

Completed
c. 1300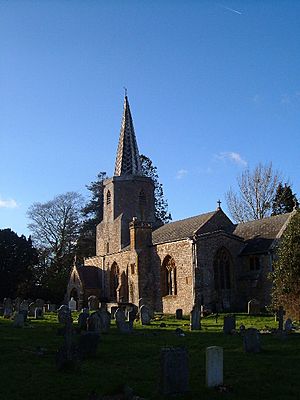 The Church of St Andrew & St Mary in Pitminster, Somerset, England was built around 1300 and has been designated as a Grade I listed building.
The current church was built on the site of an earlier Saxon church. The tower has a square first stage, an octagonal belfry and a lead covered spire.
During a Victorian restoration in 1869, George Gilbert Scott rebuilt the north aisle and south porch.
The interior is distinguished by effigy tombs of three generations of the Colles family who were lords of the manor in the 16th and 17th centuries. The font is from the 15th century.
The Anglican parish is part of the Blackdown benefice within the archdeaconry of Taunton.