South Texas Botanical Gardens & Nature Center facts for kids
South Texas Botanical Gardens & Nature Center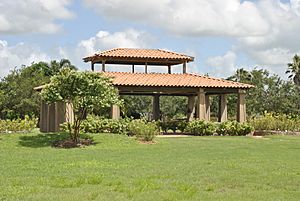 Rose Garden Pavilion

The South Texas Botanical Gardens & Nature Center, formerly known as the Corpus Christi Botanical Gardens and Nature Center is a nonprofit, 180-acre botanical garden and nature center located at 8545 South Staples, Corpus Christi, Texas. It is open daily; an admission fee is charged.
The gardens can be traced to 1987 when a first cottage garden (1 acre) and nature trail opened in Corpus Christi. Today's gardens, however, are on a different site that opened in 1996. The gardens have been actively developed since that time.
Major exhibits now include an arid garden; Exhibit House with bromeliads, cycads, cacti, and succulents; hibiscus garden; hummingbird garden; landscape demonstration beds; orchid house with more than 3000 orchids; a major collection of more than 100 plumeria varieties; contemporary rose garden with a large pavilion; sensory garden; and water garden.
The site also contains a mesquite nature trail through 30 acres (120,000 m2) of brush. It features some 35 species of woody trees and shrubs, herbs, grasses, and cacti, as well as white-tailed deer, collared peccaries, and coyotes.
See also

In Spanish: Centro de la naturaleza y jardín botánico de Corpus Christi para niños