Space Shuttle Columbia disaster facts for kids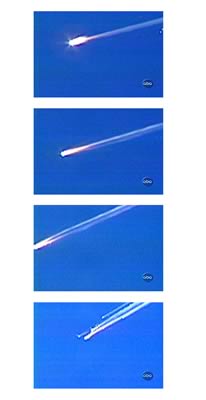 The Space Shuttle Columbia disaster occurred when Space Shuttle Columbia broke up when it was reentering the atmosphere on February 1, 2003. The cause of the disaster was that a piece of foam broke from the external fuel tank. This made a hole in the shuttle's wing. During its entry, hot gases entered the wing, causing it to break up. All of the people on board died when it broke up.
Parts of Columbia were found across the state of Texas. The government of the United States has told people who find parts of the Space Shuttle to return the parts to the government. If they do not give the parts back they may face legal penalties. Even today parts are still being found. All of the found parts are currently in a building owned by NASA. NASA is trying to get all of the parts. They want to figure out the cause of the accident. They hope getting the parts back will help them do this.
Crew
Images for kids
Columbia lifting off on its final mission. The light-colored triangle visible at the base of the strut near the nose of the orbiter is the Left Bipod Foam Ramp. Video

Mock-up of a Space Shuttle leading edge made with an RCC-panel taken from Discovery. Simulation of known and possible conditions of the foam impact on Columbia's final launch showed brittle fracture of RCC.

A makeshift memorial at the main entrance to the Lyndon B. Johnson Space Center in Houston, Texas