Highbury & Islington station facts for kids
Highbury & Islington
Location
Highbury & Islington
Local authority
London Borough of Islington
Managed by
London Underground
Station code
HHY
Number of platforms
7
Fare zone
2
London Underground annual entry and exit
2008
13.730 million
2009
14.327 million
2010
13.940 million
2011
16.26 million
2012
16.77 million
National Rail annual entry and exit
2007–08
4.751 million
— interchange

 

0.137 million
2008–09
4.173 million
— interchange

 

0.124 million
2009–10
5.668 million
— interchange

 

0.174 million
2010–11
7.625 million
— interchange

 

0.319 million
2011–12
11.801 million
Other information
Lists of stations
Other websites



Lua error in package.lua at line 80: module 'Module:mw' not found.
Highbury & Islington station is a National Rail, London Overground and London Underground station, in the London Borough of Islington in North London. It serves the suburbs of Highbury and Islington. The name is often shortened to simply Highbury.
The station is on the Underground's Victoria Line, between Finsbury Park and King's Cross St. Pancras. It is also on the National Rail North London Line and Northern City Line. It is in Travelcard Zone 2.
Finsbury Park to Highbury & Islington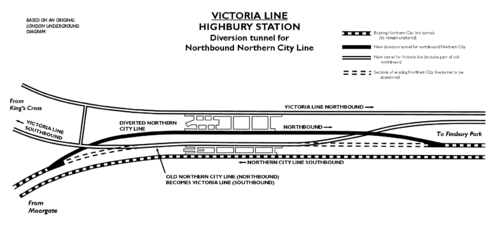 Future
In 2010 Highbury & Islington will become the new northern terminus of phase one of the East London Railway extension, which will be operated as part of London Overground.
Islington Council is currently considering redeveloping the site of the current station, and Highbury Corner generally, including possibly covering over the North London Line tracks and building an office block above the site..

Gallery
Victoria line (London Underground)
Great Northern (First Capital Connect)
North London Line (London Overground)