MS Norman Atlantic facts for kids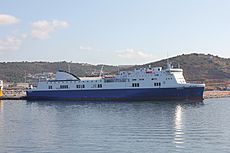 MS Norman Atlantic is a ferry. It transports both people and vehicles. It was built in 2009. It can take 850 passengers and 200 vehicles. Its original names were Akeman Street and Scintu. It was renamed Norman Atlantic in January 2014.
On 28 December 2014, Norman Atlantic caught fire in the Strait of Otranto, in the Adriatic Sea. Eight people were killed and 432 were rescued.
Images for kids