A&W (Canada) facts for kids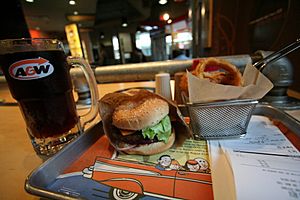 A&W Food Services of Canada, Inc. is a Canadian fast food restaurant chain. The first Canadian A&W restaurant opened in Winnipeg, Manitoba in 1956. A&W is known best for their root beer.
A&W Canada was part of the U.S.-based A&W Restaurants chain, but was sold to Unilever in 1972. In 1995 Unilever sold the company. It no longer has any corporate connection to A&W operations outside of Canada. The company has more locations than the United States even though the population is smaller in Canada.
Images for kids
A Canadian A&W (in Stratford, Ontario)