Bill & Melinda Gates Foundation facts for kids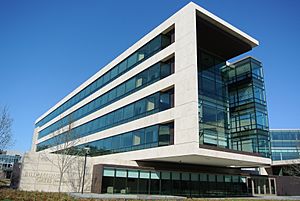 The Bill & Melinda Gates Foundation is a non-profit organisation that donates money to fight diseases. It was founded by Bill Gates of Microsoft and his wife Melinda Gates. The money comes from the billions of dollars Bill Gates earned from his software business.
Images for kids
The "sanitation value chain" used by the Gates Foundation to illustrate their approach to sanitation, showing collection, transport, treatment and reuse.