Heckler & Koch facts for kids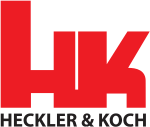 Heckler & Koch (H&K, Heckler und Koch) is a German firearm manufacturing company. They make many guns such as the MP5 series submachine gun and the rifle G3. Heckler and Koch are one of the most famous weapon manufacturers and deliver weapons to many government agencies such as German Armed Forces or the US Army.
The company is in Oberndorf in the state of Baden-Württemberg, but also has locations in the United Kingdom, France and the United States. The company motto is "Keine Kompromisse!" (No Compromise!). H&K makes firearms for many military and paramilitary units and counter-terrorism and hostage rescue teams.
Products
Pistols: VP70, P9, P8, P7, USP, Mk23, P2000, P30
Submachine guns: MP5, MP7, UMP
Machine guns: LMG36, MG4, HK21
Grenade launchers: GMG/GMW, HK69, AG36, HK P2A1
Images for kids