AT&T Stadium

Cowboys Stadium – July 2009

Former names
Cowboys Stadium (2009–2013)
Location
1 AT&T Way
Arlington, Texas 76011
United States
Coordinates

32°44′52″N

97°5′34″W

 / 

32.74778°N 97.09278°W

Coordinates:

32°44′52″N

97°5′34″W

 / 

32.74778°N 97.09278°W

Broke ground
September 20, 2005
Opened
May 27, 2009
Owner
City of Arlington
Operator
Dallas Cowboys
Surface
Matrix artificial turf
Construction cost
$1.3 billion
($1.3 billion in 2019 dollars )
Architect
HKS, Inc.
Project Manager
Blue Star Development/Jack Hill
Capacity
Football: 80,000 (expandable to 111,000 with standing room)
Record attendance

Football: 105,121
September 21, 2009
Dallas Cowboys vs. New York Giants
Basketball: 108,713
February 14, 2010
2010 NBA All-Star Game


Boxing: 50,994
March 13, 2010
Manny Pacquiao vs. Joshua Clottey
Tenants
Dallas Cowboys (NFL) (2009 – present)
Cotton Bowl Classic (NCAA) (2009 – present)
Big 12 Championship Game (NCAA) (2009 – 2010)
UIL Texas State Football Finals (2010 – present)
Super Bowl XLV (2011)
2010 NBA All-Star Game
NCAA Men's Division I Basketball Championship (2014)
WrestleMania 32 (2016)
AT&T Stadium is the current domed-stadium for the Dallas Cowboys. It was opened on May 22, 2009 costing $1.2 billion. It is also used for concerts and other events. It was known as Cowboys Stadium from 2009 until 2013.
On July 25, 2013, it was announced that the Cowboys had agreed to grant naming rights to AT&T, changing the name of Cowboys Stadium to AT&T Stadium.
Stadium design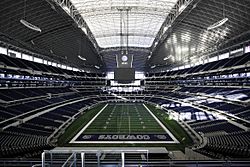 AT&T Stadium is currently the world's largest covered stadium with 80,00 seats. A pair of nearly 300 ft (91 m)-tall arches spans the length of the stadium dome, anchored to the ground at each end. The new stadium also includes "more than 3,000 Sony LCD TV's throughout the luxury suites, concourses, concession areas and more, offering fans viewing options that extend beyond the action on the field," and a center-hung video board that is the largest high-definition television screen in the world. Glass doors, allowing each end zone to be opened, were designed and built.
Events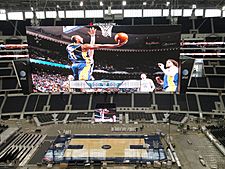 Besides having the Cowboys play there, AT&T Stadium has hosted the following sports events:
Big 12 Championship Game
Cotton Bowl Classic
Cowboys Classic
Southwest Classic
2010 NBA All-Star Game