Philadelphia Parks & Recreation facts for kids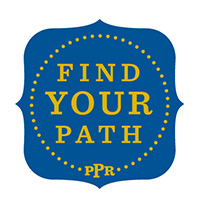 Philadelphia Parks & Recreation (PPR) is the municipal department responsible for managing parks, recreation centers, playgrounds, trails, community gardens, and historic properties in Philadelphia, Pennsylvania. Its inventory includes more than 150 parks and 170 recreation centers and playgrounds. It became the successor to the Fairmount Park Commission and the City of Philadelphia Department of Recreation in 2010.
General Overview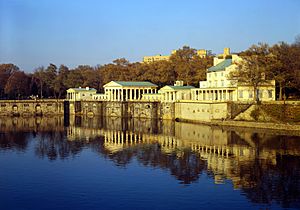 In addition to overseeing nearly 10,200 acres of land and hundreds of recreation centers, some of the amenities found in the parks and recreation system include 71 outdoor pools, 223 miles of trails, 404 baseball/softball fields, 40 historic sites, 25 public access computing centers, 460 basketball courts and 66 gardens, farms and orchards.
Philadelphia Parks & Recreation also offers approximately 100 After School Programs throughout the city and over 130 summer camps, including neighborhood camps, specialty camps and special needs camps. Other PPR programs focus on urban agriculture, visual and performing arts, environmental education and outdoor recreation, along with sports and athletics opportunities. In addition, PPR operates a food program that feeds approximately 30,000 kids per day in the summer and around 4,000 per day during the school year.
Department services include ecosystem management, historic preservation, event permitting and management, citizen engagement, youth employment, tree services and concessions. Philadelphia Parks & Recreation also organizes signature events and entertainment series like the Mummers Parade, Broad Street Run, The Oval and the Dell Music Center.
Neighborhood and regional parks
Among the department's more than 150 neighborhood and regional parks are:
Allens Lane
Awbury Park
Bradford Park
Carpenter's Woods
Christ Church Park
Clifford Park
Cloverly Park
Cobbs Creek Golf Course
Fernhill Park
Fisher Park
Fluehr Park
Fox Chase Farm
Franklin D. Roosevelt Golf Course
Franklintown Park
Germany Hill
Harper's Hollow Park
Holme Crispin Park
I-95 Park
John Byrne Golf Course
Juniata Golf Course
Karakung Golf Course
Kay Park
Kemble Park
La Noce Park
Loudoun Park
Manatawna Farm
McMichael Park
Morris Park
Palmer Park
Poquessing Creek Park
Roosevelt Boulevard
Schuylkill River Park includes the Schuylkill River Park Community Garden
Somerton Woods
Southern Boulevard
Stephen Girard Park
Tacony Creek Park
Wakefield Park
Walnut Lane Golf Course
Wingohockon Park
Wissahickon Valley Park
Wister's Woods Park
Wooden Bridge Run
Woodward Pines