Adler Planetarium & Astronomy Museum facts for kids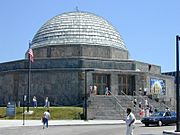 The Adler Planetarium & Astronomy Museum is a planetarium in Chicago, Illinois, U.S.. It was the first planetarium built in the Western Hemisphere and is the oldest in existence. The planetarium was founded and built in 1930 by the philanthropist Max Adler, with the assistance of the first director of the planetarium, Philip Fox. The Adler Planetarium opened to the public on May 12, 1930.
The planetarium is on Northerly Island. It is part of Chicago's Museum Campus, along with the John G. Shedd Aquarium and the Field Museum of Natural History. For its design, architect Ernest A. Grunsfeld, Jr. was awarded the gold medal of the Chicago chapter of the American Institute of Architects in 1931. It was declared a National Historic Landmark in 1987.
Images for kids