iPad Mini facts for kids
iPad Mini

Black iPad Mini

Developer
Apple Inc.
Manufacturer
Foxconn, Pegatron
Type
Tablet computer
Media
iOS
Operating system
1st generation, 2 and 3: iOS 8.1, released October 20, 2014
Power
Bulit-in rechargeable 4440mAh Li-Po battery
16.3 W⋅h (59 kJ), 10hr life
System-on-chip used
Apple A5 2nd Generation (32nm)
CPU
1 Ghz dual-core ARM Cortex-A9
Memory
512 MB DDR2 RAM
Storage
16, 32, or 64 GB flash memory
Display
7.9 inch (200.66 mm) diagonal LED-backlit Multi-Touch display with IPS technology
1024 x 768 px at 163 PPI 4:3 aspect ratio
Graphics
PowerVR SGX543MP2
Input
Mulit-touch screen, headset controls, proximity and ambient light sensors, 3-axis accelerometer, gyroscope, digital compass
Camera
Front-facing 1.2MP and rear-facing 5MP
Connectivity

All models

Wi-Fi:

802.11 a/b/g/n @ 2.4 GHz and 5 GHz

GSM:

LTE 700/2,100 (Band 4) MHz

UMTS/HSPA+/DC-HSDPA

850/900/1,800/1,900 MHz

CDMA:

LTE

750/850/1,800/1,900/2,100 (Band 1) MHz

CDMA/EV-DO Rev. A & B

800/1,900/2,100 MHz

UMTS/HSPA+/DC-HSDPA

850/900/1,900/2,100 MHz

GSM/EDGE

850/900/1,800/1,900 MHz

Online services
App Store, iTunes
Weight
Wi-Fi: 308 g (0.68 lb)
Wi-Fi + Cellular: 312 g (0.69 lb)
Successor
iPad Mini (2nd generation)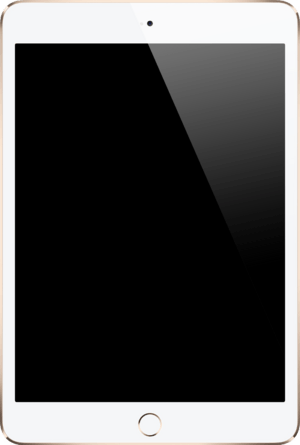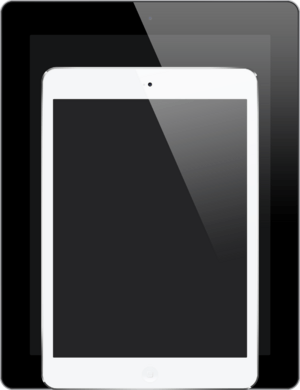 The iPad Mini is a line of mini tablet computers that is designed, made, and sold by Apple Inc.. It is smaller than a full-sized iPad with a screen size of 7.9 inches, compared to 9.7 inches on a regular iPad. The first iPad mini was announced on October 23, 2012, and was released on November 2, 2012, in almost all of Apple's markets. It is similar to the iPad 2.
The second-generation iPad Mini was announced on October 22, 2013, and was released on November 12, 2013. It is the first iPad Mini to have a Retina Display.
Features
The iPad Mini shipped with iOS 6. It can act as a hotspot, meaning that it can share its internet connection over Wi-Fi, Bluetooth, or USB. It can also access the App Store, where users can buy and install applications for their device. It can run the latest operating system, iOS 7, and this version shipped with the second generation iPad Mini.
Model Comparison
Below is a comparison of the two iPad Mini models..
Model
iPad Mini (1st generation)
iPad Mini 2
iPad Mini 3
Model Number
A1432 (WiFi)
A1454 (WiFi + Cellular)
A1455 (WiFi + Cellular MM)
A1489 (WiFi)
A1490 (WiFi + Cellular)
Status
Discontinued
Available
Discontinued
Announcement date
October 23, 2012
October 22, 2013
October 16, 2014
Release date
November 2, 2012
November 12, 2013
October 24, 2014
Discontinued
32, 64 GB: October 22, 2013
16 GB: In production
64, 128 GB: October 16, 2014
16, 32 GB: In production
16, 64, 128 GB: In production
Launch Price
Wi-Fi models:
16 GB $329, 32 GB $429, 64 GB $529
Wi-Fi + Cellular models:
16 GB $459, 32 GB $559, 64 GB $659
Wi-Fi models:
16 GB $399, 32 GB $499, 64 GB $599, 128 GB $699
Wi-Fi + Cellular models:
16 GB $529, 32 GB $629, 64 GB $729, 128 GB $829
Wi-Fi models:
16 GB $399, 64 GB $499, 128 GB $599
Wi-Fi + Cellular models:
16 GB $529, 64 GB $629, 128 GB $729
SoC
Apple A5
Apple A7
Motion coprocessor
N/A
Apple M7
CPU
1 GHz dual-core ARM Cortex-A9
1.3 GHz dual-core Apple Cyclone
GPU
Dual-core PowerVR SGX543MP2
Quad-core PowerVR G6430
Memory
512 MB DDR2 RAM built into Apple A5 package
1024 MB LPDDR3 RAM
Storage
16, 32, or 64 GB
16, 32, 64, or 128 GB
16, 64, or 128 GB
Display
7.9 inches (200 mm) multi-touch display with LED backlighting and a fingerprint and scratch-resistant coating
1024×768 pixels at 163 ppi
2048×1536 pixels at 326 ppi (Retina Display)
Camera
Back
1080p HD still and video camera
5 MP, 30fps and 5× digital zoom
Front
1.2 MP still, 720p video
Wireless
Wi-Fi
Wi-Fi (802.11a/b/g/n), Bluetooth 4.0
Wi-Fi + Cellular
In addition to above:
3G transitional LTE on Cellular model
Geolocation
Wi-Fi
Wi-Fi, Apple location databases
Wi-Fi + Cellular
Assisted GPS, GLONASS, Apple databases, Cellular network
Environmental sensors
Accelerometer, gyroscope, ambient light sensor, magnetometer
Battery
Built-in lithium-ion polymer battery.


browsing: 10 hours (Wi-Fi), 9 hours (3G/Cellular); video: 10 hours; audio: 140 hours; standby: 1 month

Initial operating system
iOS 6.0
iOS 7.0.3
iOS 8.1
Highest supported operating system
iOS 8.1
iOS 8.1
iOS 8.1
Dimensions
7.87 in × 5.3 in × 0.28 in (200 mm × 135 mm × 7 mm)
7.87 in × 5.3 in × 0.29 in (200 mm × 135 mm × 7 mm)
Weight
Wi-Fi model: 0.68 lb (310 g)
Wi-Fi + Cellular model: 0.69 lb (310 g)
Wi-Fi model: 0.73 lb (330 g)
Wi-Fi + Cellular model: 0.75 lb (340 g)
Mechanical keys
Home, sleep, volume rocker, variable (mute sound and rotation lock) function switch (iPad Mini 2 and below)
Connector
Lightning
Greenhouse gas emissions
95 kg CO2e
140 kg CO2e
Model
iPad Mini (1st generation)
iPad Mini 2
iPad Mini 3