Game & Watch facts for kids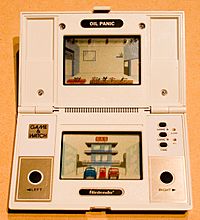 The Game & Watch was a series of small, hand-held video games made by Gunpei Yokoi of Nintendo from 1980 to 1991. The games were usually simplistic (For example, "Chef" required keeping food in the air). It was the forerunner of the Game Boy (meaning it came before the Game Boy).
Mr. Game & Watch
Mr. Game & Watch (Mr.ゲーム&ウォッチ, Misutā Gēmu ando Wocchi) Super Smash Bros. Melee and Super Smash Bros. Brawl.
Consoles

Color TV Game
NES

Famicom Titler
Twin Famicom
Nintendo M82
C1 NES TV

Super NES

Handhelds

Game & Watch (Mini Classics)
Pokémon mini

Arcade

Early arcade games
PlayChoice-10
Nintendo Super System
Triforce

Peripherals

DK Bongos
4-Players Adaptor
Nintendo GameCube–Game Boy Advance link cable
NES Advantage
NES Four Score
NES Max
NES Satellite
Third-party accessories)

Technology

Nintendo optical disc
Nintendo Game Card
Super FX

Online

Peripherals (Famicom Modem
GCN Modem and Broadband Adapter)
Services (Randnet

Other
Images for kids