Florida A&M University facts for kids
Florida Agricultural and Mechanical University

FAMU

Former names

Florida Agricultural and Mechanical College for Negroes
(1909–1953)
State Normal and Industrial College for Colored Students
(1891–1909)
State Normal College for Colored Students
(1887–1891)
Motto
Excellence With Caring
Type
Public, HBCU
Land-grant
Established
October 3, 1887
Endowment
$127.18 million
President
Elmira Mangum

Academic staff

630
Students
9,928
Location

U.S.

Campus
Urban
420 acres (1.7 km2)
Colors
Orange and Green


    

 

    

Athletics
NCAA Division I– Mid-Eastern Athletic Conference (MEAC)
Nickname
Rattlers and Lady Rattlers
Affiliations
State University System of Florida
Urban 13
APLU
TMCF
Mascot
Venom the Rattlesnake
Florida A&M University or FAMU, is a public, historically black university in Tallahassee, Florida. Its official name is Florida Agricultural and Mechanical University. Florida A&M University was built on the highest of seven hills in Tallahassee. It opened on October 3, 1887.
It is one of the largest historically black universities in the United States, in number of students. It awards bachelor's, master's and doctorate degrees.
FAMU's main campus is in Tallahassee. It is close to the State Capitol and the campus of Florida State University. The university also has campuses in Orlando, Miami, Jacksonville, Tampa and Crestview.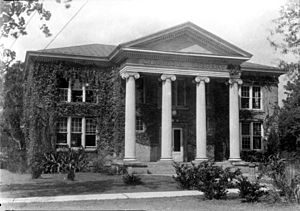 National historic district
Florida Agricultural and Mechanical College Historic District

FAMU campus, Lee Hall

Lua error in Module:Location_map at line 420: attempt to index field 'wikibase' (a nil value).

Location
Tallahassee, Florida
Area
370 acres (1.5 km2)
Built
1907
Architect
William Augustus Edwards; Rudolph Weaver, et al.
Architectural style
Colonial Revival, Classical Revival
NRHP reference No.

96000530

Added to NRHP
May 9, 1996
The Florida A&M Tallahassee Campus has 132 buildings that spread out over 420 acres (1.7 km2). Part of the campus is listed on the U.S. National Register of Historic Places. This is named the Florida Agricultural and Mechanical College Historic District. It was placed on the list on May 9, 1996.
The district is in the center of the campus. In the National Register, it covers 370 acres (1.5 km2). It includes 14 historic buildings and 1 object. One campus building, the old Carnegie Library, is listed separately on the National Register.
On April 18, 2012, the AIA's Florida Chapter put Lee Hall at Florida Agricultural & Mechanical University on its list of Florida Architecture: 100 Years. 100 Places.
Images for kids
See also

In Spanish: Universidad Agrónoma y Mecánica de Florida para niños