iPod facts for kids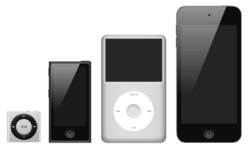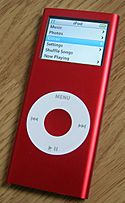 The iPod is a range of portable music players designed by the company Apple Inc. in California, but made mostly by the Chinese. The iPod comes with computer cables so that the user can put music from their computer onto the iPod, and play music from it using headphones. Newer iPods allow a user to play games, view pictures, watch videos and use the internet, too.
The first iPod was simply named the iPod. This was released in 2001. Apple still makes iPods like this today, but they are now called "iPod classic".
Apple makes a smaller iPod called the iPod nano. It is much smaller than the iPod, but does not hold as many songs. It uses flash memory, a special kind of memory for very small electronics, instead of a hard drive. It replaced a version of the iPod called the iPod mini.
Another type of iPod, called the iPod shuffle, is very small, and it uses flash memory, like the iPod nano but it has no screen. It is the least expensive iPod.
The most expensive iPod is called the iPod touch. It has a touch screen, like the iPhone. The first iPod touch was released in 2007.
iPods often contain songs downloaded from an online music store, using a program called iTunes. (The name of Apple's music and video store is the iTunes Store.) Songs are sold in AAC file format, not MP3 or WMA. These are popular formats for compressing (making smaller) music until it does not take up much space and can easily be put on a media player such as the iPod.
The App Store is an online shop that is run by Apple Inc. where people can buy software for their iPhone or iPod Touch. It opened on July 11, 2008. Over 100,000 applications (or apps for short) are available for people to buy. Some apps are available for free.
Models
Model
Generation
Image
Storage space
Changes
Connection
Original release date
Pricing (USD)
Minimum OS to sync
iPod classic
first
5, 10 GB
First model, with a scroll wheel that actually moved. 10 GB model made later.
FireWire
23 October 2001
$399, $499


(5 GB later $299)

Mac: 9/10.0/10.1
second
10, 20 GB
Touch-sensitive wheel. FireWire port has a cover. Hold switch has changed. Works with Windows too, by using the Musicmatch program.
FireWire
17 July 2002
$399, $499
Mac: 10.1
Win: XP
third
10, 15, 20, 30, 40 GB
First complete redesign. Everything works from the top-screen and the case is slimmer. Musicmatch program is replaced by iTunes 4.7 for Windows.
FireWire (USB for syncing only)
28 April 2003
$299, $399, $499
Mac: 10.2
Win: XP
fourth
20, 40 GB
Has a Click Wheel like the iPod mini.
FireWire or USB
19 July 2004
$299, $399
Mac: 10.3
Win: XP
fourth (photo) (color)
photo  : 30, 40, 60 GB
color: 20, 60 GB
Premium version of 4G iPod with colour screen and picture viewing. Later became part of the main iPod section again.
FireWire or USB
October 2004
photo: $499, $599


(later $349, $449)


color: $299, $399
Mac: 10.3
Win: XP
fifth
30, 60, 80 GB
Second full redesign with a slimmer case, and larger screen with video playback. Available in black or white.
USB (FireWire for battery charging only)
12 October 2005
$299, $399


(later $249, $349)

Mac: 10.4
Win: XP/Vista
sixth
80, 160 GB
First one to have "Classic" at the end of its name. New way to control it. Has an anodized aluminium front plate. Silver replaces white.
USB (FireWire for charging only)
5 September 2007
$249, $349
Mac: 10.4/10.5/10.6/10.7/Mac OS X v10.8/10.8
Win: XP/Vista/7
iPod mini (no longer made)
first
4 GB
New smaller model, available in 5 colours. Introduced the "Click Wheel".
USB or FireWire
6 January 2004
$249
Mac: 10.3
Win: XP
second
4, 6 GB
Brighter colours available, with a battery that last longer. Click Wheel letters match the colour of the case. Gold colour not made any more. Later replaced by iPod nano.
USB or FireWire
22 February 2005
$199, $249
Mac: 10.3/10.4
Win: XP
iPod nano
first
1, 2, 4 GB
Replaced iPod mini. Available in black or white. Uses flash memory. Colour screen for picture viewing. 1 GB version made later.
USB (FireWire for battery charging only)
7 September 2005
$149, $199, $249
Mac: 10.4
Win: 2000
second
2, 4, 8 GB
Anodized aluminum casing and 6 colours available.
USB (FireWire for battery charging only)
12 September 2006
$149, $199, $249
Mac: 10.4
Win: XP/Vista
third
4, 8 GB
2" QVGA screen. Colours changed with chrome made again. New way to control it. Can use with videos.
USB (FireWire for battery charging only)
5 September 2007
$149, $199
Mac: 10.4/10.5
Win: XP/Vista
fourth
8, 16 GB
Changed back to tall way-round. All-aluminum case with 9 colour choices. Has an accelerometer to allow shake and horizontal viewing. 4GB model available only in a limited number of places.
USB
9 September 2008
$149, $199
Mac: 10.5
Win: XP/Vista
fifth
8, 16 GB
Has larger screen and smoother case than iPod nano G4. Built-in video camera, microphone, and FM tuner.
USB
9 September 2009
$149,$179
Mac:10.5/10.6
Win:XP/Vista/7
sixth
2, 4 GB
Reverted to small iPod Shuffle design with a 1.8" multi-touchscreen all around the body. Removes video recording, video playback, speakers, and microphone.
USB
1 September 2010
$99
Mac:10.6/10.7/10.8
Win:7
seventh
2, 4 GB
Reverted to iPod Shuffle and iPod Touch crossover with Video Playback re-added and Bluetooth added.
USB
12 September 2012
$129
Mac:10.7/10.8
Win:Windows 7/Windows 8
iPod shuffle
first
512 MB, 1 GB
New entry-level (cheapest) model. Uses flash memory and has no screen.
USB
(no adaptor required)
11 January 2005
$99, $149


(later $69, $99)

Mac: 10.3/10.4
Win: XP
second
1 GB
Smaller clip design with anodized aluminium case. 4 colour options added later. Colours were later refreshed.
USB
12 September 2006
$79
Mac: 10.4
Win: XP/Vista
third
4 GB
Reverted back to first generation with controls moved to right headphone cable. Two colours, and has VoiceOver. 3 more colors added later.
USB
11 March 2009
$79
Mac: 10.5/10.6
Win: XP/Vista/7
fourth
4 GB
Reverted back to second generation Shuffle with controls returned to the body of the iPod. Features VoiceOver.
USB
1 September 2010
$79
Mac: 10.6/10.7/10.8
iPod touch
first
8, 16, 32 (released later) GB
With Safari internet browser, Multi-touch, Wi-Fi, wireless access to the iTunes Store and YouTube.
USB (FireWire for battery charging only)
5 September 2007 (32GB February 2008)
$299, $399, $499
Mac: 10.4/10.5
Win: XP/Vista
second
8, 32, 64  GB
New tapered chrome back with Nike+ function, volume buttons, and built-in speaker added.
USB
9 September 2008
$299, $399, $499
Mac: 10.5
Win: XP/Windows Vista
third
32, 64  GB
Features Voice Control from iPhone 3GS.
USB
9 September 2009
$299, $399, $499
Mac: 10.6
Win: XP/Vista/7
fourth
8, 32, 64 GB
New design from iPhone 4. Features front and back video cameras.
USB
1 September 2010
$299, $399, $499
Mac: 10.6/10.7/10.8
Win: 7
fifth
32, 64 GB
Features larger 4" screen from iPhone 5. First iPod Touch available in several different colors.
USB
12 September 2012
$299, $399, $499
Mac: 10.7/10.8
Win:7/8
Images for kids