Mr. Peabody & Sherman facts for kids
Mr. Peabody & Sherman

Theatrical release poster

Directed by
Rob Minkoff
Produced by

Alex Schwartz
Denise Nolan Cascino

Screenplay by
Craig Wright
Starring
Music by
Danny Elfman
Editing by
Michael Andrews
Distributed by
20th Century Fox
Release

date(s)

February 7, 2014

(United Kingdom)


March 7, 2014

(United States)

Running time
92 minutes
Country
United States
Language
English
Budget
$145 million
Money made
$275.7 million
Mr. Peabody & Sherman is a 2014 American computer-animated science fiction comedy film based on characters from the Peabody's Improbable History segments of the animated television series The Adventures of Rocky and Bullwinkle and Friends, produced by DreamWorks Animation and distributed by 20th Century Fox. The film was directed by Rob Minkoff from a script by Craig Wright, with Alex Schwartz and Denise Nolan Cascino serving as producers and Tiffany Ward, daughter of series co-creator Jay Ward, serving as executive producer. Mr. Peabody & Sherman features the voices of Ty Burrell, Max Charles, Ariel Winter, Stephen Colbert, Leslie Mann, and Allison Janney.
It is the first DreamWorks animated feature to feature characters from the Classic Media library since its acquisition by DreamWorks Animation in 2012, the first animated adaptation of a Jay Ward property, and Minkoff's first animated film after having co-directed The Lion King for Walt Disney Animation Studios in 1994.
The film premiered on February 7, 2014 in the United Kingdom, and was released theatrically on March 7, 2014 in the United States. It received generally positive reviews from critics, who praised the humor, animation, soundtrack, voice acting, and action scenes. Despite grossing over $275 million worldwide against a budget of $145 million, the film became a box office flop and lost the studio $57 million. A TV series based on the film, titled The Mr. Peabody & Sherman Show, premiered on Netflix on October 9, 2015, with Chris Parnell replacing Burrell as Mr. Peabody while Charles reprises his role as Sherman.
Plot
Mr. Peabody is a gifted anthropomorphic dog who lives in a penthouse in New York City and raises his adopted human son, 7-year-old Sherman, and tutors him traveling throughout history using the WABAC, pronounced "way back", a time machine. They visit Marie Antoinette in Versailles during the French Revolution in 1789. Getting caught in the Reign of Terror, Peabody is nearly sent to the guillotine to be executed by Maximilien Robespierre, but escapes with Sherman through the Paris sewers.
In the present day, Sherman attends the Susan B. Anthony School on his first day, while Peabody struggles to come to terms with Sherman's growing maturity as he fears of losing his bond with him. Sherman's knowledge of the apocryphal nature of the George Washington cherry-tree anecdote leads to a fight with one of his classmates, a bossy girl named Penny Peterson, in the cafeteria where she puts him in a choke hold, accusing him of being a dog due to the fact that he was raised by Peabody. Peabody is called in by Principal Purdy as Sherman had bitten Penny in self-defense, and also confronted by Ms. Grunion, a Child Protective Services agent, who suspects that Sherman's behavior is due to being raised by a dog and plans to visit to their home to investigate whether or not he is an unfit parent. Peabody invites Penny and her parents, Paul and Patty, over for dinner to reconcile before Ms. Grunion arrives. Penny calls Sherman a liar for claiming first-hand knowledge of history. Despite Peabody's contrary instructions, Sherman shows Penny the WABAC to show proof and takes her into the past, where she stays in Ancient Egypt in 1332 BCE to marry King Tut. Sherman returns to get Peabody's help. Peabody hypnotizes the Petersons and heads to Egypt to stop the wedding. Penny initially refuses to leave, hoping to achieve Tut's riches after he dies, until she is informed that she as well will be killed alongside Tut during the wedding and escapes with Peabody and Sherman.
While trying to return, the WABAC runs out of power, so they stop at Renaissance Florence in 1508 where they meet Leonardo da Vinci and Lisa del Giocondo, pioneering Mona Lisa's famous smile. Penny and Sherman explore da Vinci's attic and find his flying machine. Penny goads Sherman into flying it, which he manages to do before crashing. Da Vinci is thrilled the device works, but Peabody is upset that Sherman was almost killed, while also having destroyed a historical artifact. When they resume their journey, Sherman learns of Ms. Grunion's plot to take him away and enters a fight with Peabody. As they feud, a black hole in time makes them crash-land during the Trojan War in 1184 BCE. Upset about Peabody not trusting him, Sherman runs away and joins the army of King Agamemnon in the Trojan Horse, but reconciles with him during the battle. During the final parts of the Trojan War, Penny and Sherman are trapped inside the Horse as it rolls towards a ravine. Peabody saves them but seemingly dies during the attempt, causing Sherman to break down in tears while Penny comforts him.
Feeling bad for his actions, Sherman decides to go home and pilots the WABAC to a few minutes before they left in the present to get Mr. Peabody's help to fix everything, despite Peabody's earlier warnings to never return to a time when they existed. As Sherman and Penny try to explain the situation, Sherman's earlier self shows up. When Grunion arrives, Peabody tries to conceal from the Petersons the presence of two Shermans; but the second Peabody arrives back from Ancient Troy, complicating the situation. Troy Peabody reveals he survived the crash, much to Sherman's relief. Grunion attempts to collect both Shermans, but they and the Peabodys merge back together, causing a massive cosmic shockwave. Grunion grabs Sherman to take him away for good, to which an enraged Peabody reverts to his natural dog instincts and furiously bites Grunion in retaliation, who then calls the New York Police Department. Peabody, Penny, and Sherman race to the WABAC, but cannot time-travel due to a rip in the space-time continuum caused by the merger of their cosmic doubles. The collision caused a portal to appear above New York and historic objects and figures, many from earlier parts of the story, rain down everywhere in the city.
Mr. Peabody crash-lands the WABAC in Grand Army Plaza at the base of William Tecumseh Sherman's statue. Historical figures and police officers quickly surround them, while Grunion calls in animal control to arrest Peabody. Sherman explains that everything was his fault, but Grunion contends that it is all because a dog cannot raise a boy. Sherman counters Grunion by saying that if being a dog means being as loving and loyal as Peabody is, then he is proud to be a dog, too. Penny, her parents, the historical figures, and others all make the same pledge. George Washington grants Peabody a presidential pardon which is supported by Abraham Lincoln and Bill Clinton, forcing the authorities to leave Mr. Peabody alone. When larger objects such as the Sphinx, the RMS Titanic and the Florence Cathedral begin falling through the rip, the people of the present and the past are forced to brainstorm ideas to prevent disaster. To close the rip, Peabody and Sherman take off in the WABAC, travel into the future for a few minutes, and undo the damage. The historical figures are dragged back to their respective times, with Agamemnon abducting Grunion back to his own time as she vows revenge on Peabody.
Sherman returns to school, having become great friends with Penny. History, meanwhile, is contaminated with modern traits, with Tut throwing a New York-themed party, da Vinci and del Giocondo pioneering pop art, Washington and Benjamin Franklin competing over the value of the banknotes with their respective faces on them, Albert Einstein going into a rage upon being unable to solve a Rubik's Cube, Robespierre failing to use a taser properly, and Grunion and Agamemnon getting married in the Trojan Horse by Odysseus.
Voice cast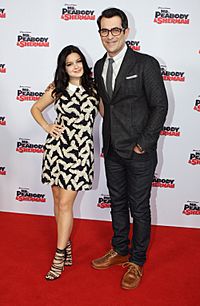 Ty Burrell as Hector J. Peabody, a talking intelligent white beagle, business titan, inventor, scientist, Nobel laureate, gourmet chef, and two-time Olympic medalist.
Max Charles as Sherman, Peabody's seven-year-old adopted young boy.
Ariel Winter as Penny Peterson, Mr. and Mrs. Peterson's daughter and Sherman's classmate.
Stephen Colbert as Paul Peterson, Penny Peterson's father and Patty's husband.
Leslie Mann as Patty Peterson, Paul's wife and Penny's mother.
Allison Janney as Karen "Edwina" Grunion, the bigoted and stocky Children's Services agent.
Stephen Tobolowsky as Principal Purdy, the principal of Sherman's school.
Adam Alexi-Malle as French Peasant
Steve Valentine as Ay
Dennis Haysbert as Judge
Leila Birch as the WABAC
Karan Brar as Mason, one of Sherman's friends.
Joshua Rush as Carl, another one of Sherman's friends; he also wears glasses and is seen in a wheelchair.
Thomas Lennon as Italian Peasant #2
In addition to Leonardo da Vinci, King Agamemnon, and King Tut, the film features other historical figures including Albert Einstein (Mel Brooks), Mona Lisa (Lake Bell), Marie Antoinette (Lauri Fraser), Maximilien Robespierre (Guillaume Aretos), George Washington, Abraham Lincoln, Bill Clinton, Isaac Newton (all voiced by Jess Harnell), Odysseus (Tom McGrath), Ajax the Lesser (Al Rodrigo) and Spartacus (Walt Dohrn). There are also silent cameos by Benjamin Franklin, Mahatma Gandhi, William Shakespeare, Ludwig van Beethoven, Vincent van Gogh, the Wright Brothers, Jackie Robinson and baby Moses.
Production
Casting
In early 2011, Robert Downey Jr. signed on to voice Mr. Peabody, but in March 2012, he was replaced by Ty Burrell. Reportedly, Downey's commitments to The Avengers and other franchises did not allow him to find the time to record his lines. Initially, Tiffany Ward and others at the studio opposed Burrell, who was then relatively unknown, but he managed to convince them with a successful audition. Ward insisted on someone who sounds like Mr. Peabody did in the original series, while Minkoff saw the casting as an opportunity "to modernize the character." He promised her that Burrell would try to "get there and he started watching the show to nail the cadence. He got the underlying connection and he made it his own."
Max Charles, the actor who played young Peter Parker in The Amazing Spider-Man, voiced Sherman. Stephen Colbert voiced Paul Peterson, Leslie Mann, who replaced Ellie Kemper, voiced Peterson's wife, Patty, and Ariel Winter voiced their daughter Penny. Other voices include Stephen Tobolowsky, Allison Janney, Mel Brooks, Stanley Tucci, Patrick Warburton, Lake Bell, Zach Callison, Karan Brar, and Dennis Haysbert. According to Minkoff, Burrell was chosen because his voice "embodied all the different aspects of the character today. Not just the intellect and the suave personality, but the underlying warmth as well."
Release
Mr. Peabody & Sherman went through several release date changes. Originally scheduled for March 2014, DreamWorks Animation's high expectations moved the film to November 2013, replacing another DreamWorks Animation film, Me and My Shadow. The last shift happened in February 2013, which pushed the film back to March 7, 2014, reportedly due to a "more advantageous release window", again replacing Me and My Shadow. The film premiered a month earlier in the United Kingdom, on February 7, 2014.
The film was planned to be theatrically accompanied with a DreamWorks Animation short film, Rocky & Bullwinkle, based on the Rocky and Bullwinkle characters from The Rocky and Bullwinkle Show. The short was directed by Gary Trousdale, who is known for co-directing Disney's Beauty and the Beast, produced by Nolan Cascino, and written by Thomas Lennon and Robert Garant. June Foray was set to reprise her role as Rocket "Rocky" J. Squirrel, while Tom Kenny was set to voice Bullwinkle Moose. The short would have served as a test for a possible feature film based on the characters. Almost Home, a short based on the DreamWorks Animation film Home, played before the film instead. However, the new CGI Rocky & Bullwinkle short was instead released on the Blu-ray 3D release of the film.
Home video
Mr. Peabody & Sherman was released in digital HD, Blu-ray (2D and 3D) and DVD on June 3, 2014. The Blu-ray release also included a new CGI Rocky & Bullwinkle short film. As of February 2015, 3.4 million home entertainment units were sold.
Accolades
Awards
Award
Category
Recipients and nominees
Result
Annie Award
Outstanding Achievement for Animated Effects in an Animated Production
Fangwei Lee, Krzysztof Rost, Jihyun Yoon, Robert Chen
Nominated
Outstanding Achievement for Character Design in an Animated Feature Production
Timothy Lamb, Joe Moshier
Nominated
Outstanding Achievement for Music in an Animated Feature Production
Danny Elfman
Nominated
Outstanding Achievement for Production Design in an Animated Feature Production
David James, Ruben Perez, Priscilla Wong, Timothy Lamb, Alexandre Puvilland
Nominated
British Academy Children's Awards
BAFTA Kid's Vote – Film in 2014
Nominated
Golden Trailer Awards
Best Original Score
"Who's the Dog", 20th Century Fox, Buddha Jones
Nominated
Best Animation/Family TV Spot
Nominated
Best Pre-show Theatrical Advertising for a Brand
"Odeon Premier Club", 20th Century Fox, Toy Box Entertainment
Nominated
Best Viral Video or Campaign
"History Greatest Mystery", 20th Century Fox, Toy Box Entertainment
Nominated
Soundtrack
Mr. Peabody & Sherman
Soundtrack album by
Released
March 3, 2014
Recorded
2014
Genre
Film score
Length

50

:

10

Label
Relativity Music Group
Danny Elfman film scores chronology

American Hustle
(2013)
Mr. Peabody & Sherman
(2014)
Big Eyes
(2014)
The film's score was composed by Danny Elfman. The soundtrack was released by Relativity Music Group on March 3, 2014. Peter Andre wrote and performed for the film a song titled "Kid", which is played during the British version of the end credits, instead of Grizfolk's "Way Back When".
All music composed by Danny Elfman, except as noted.
No.
Title
Length
1.
"Mr. Peabody's Prologue"  
3:19
2.
"Reign of Terror!"  
2:48
3.
"The Drop Off"  
1:14
4.
"The Dog Whistle"  
0:48
5.
"The Cherry Tree"  
0:59
6.
"A Deep Regard"  
0:52
7.
"Beautiful Boy (Darling Boy)" (John Lennon)
3:51
8.
"Dinner Party"  
0:30
9.
"The Petersons / The Wabac Machine"  
3:08
10.
"Aquarela do Brasil"  
0:47
11.
"Off to Egypt"  
2:07
12.
"The Wedding Exodus"  
1:05
13.
"Hammer-Time"  
0:57
14.
"The Flying Machine"  
4:42
15.
"Trojan Horse"  
3:25
16.
"War / Disaster"  
3:32
17.
"History Mash-Up"  
4:33
18.
"I'm a Dog Too"  
3:41
19.
"Fixing the Rip"  
2:13
20.
"Back to School"  
1:16
21.
"Aquarela do Brasil (Coda)"  
1:03
22.
"The Amazing Mr. Peabody"  
0:34
23.
"Way Back When" (Grizfolk)
2:46

Total length:

50:10
Television series
An animated television series featuring Mr. Peabody and Sherman, titled The Mr. Peabody and Sherman Show, was premiered on October 9, 2015, on Netflix. The series is based on the 1960s short film segments that aired as part of The Rocky and Bullwinkle Show, and it also takes some elements from the film. After being revealed as time travelers at the end of the film, Mr. Peabody and Sherman launch a live TV variety show, hosting various historical figures at their Manhattan penthouse. The series is hand-drawn, with the Vancouver-based DHX Media providing the animation. Mr. Peabody is voiced by Chris Parnell, while Max Charles reprises his role as Sherman from the film. According to The Animation Guild, I.A.T.S.E. Local 839, 78 episodes of the television series have been ordered, however, only 52 episodes were made. A soundtrack for the series was released digitally on October 2, 2015, and on CD in December 2015. Published by Lakeshore Records, the album features original score and the opening theme song by Eric Goldman and Michael Corcoran (a.k.a. The Outfit), and new original songs by Jukebox the Ghost, JD McPherson, Wordsworth and Prince Paul, and Ra Ra Riot.
Images for kids