HMS Victory facts for kids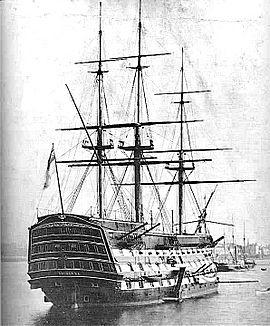 HMS Victory is the oldest ship still in use. It is in Portsmouth, England with the HMS Warrior and the remains of the Mary Rose, a ship belonging to Henry VIII of England.
Her most famous captains are Horatio Nelson, who died on the ship during the Battle of Trafalgar, and Samuel Hood.
Images for kids
HMS Victory flying the Blue Ensign (with the pre-1801 Union Jack), from The Fleet Offshore, 1780–90, an anonymous piece of folk art now at Compton Verney Art Gallery.

The Battle of Trafalgar, a composite of several moments during the battle, by J. M. W. Turner (oil on canvas, 1822–1824)